Raccoon Removal For Concord, Lake Norman, and Mooresville, NC

704-929-4677
Raccoons are a common nuisance in our area. Due to more and more homes and businesses going up and nature's habitat is slowly decreasing they are now seeking shelter elsewhere.
The biggest problem that most people have is keeping pet foods outside or trash unsecured.
Once they feel comfortable with being around the house, they will begin exploring the roofline or pet entrance doors.
A Raccoon that finds its way into a home or business will become aggressive if scared or cornered (especially during the birthing season).
Just like a squirrel being in the attic, a Raccoon can do just as much if not more damage.
They will begin pulling on wires in the attic causing an electrical short, or even pull hard enough to disconnect the wire completely, leaving you with exposed wires laying on your wooden trusses.
Raccoons urinate and leave their droppings in the attic contaminating insulation and exposing your living space to disease and foul odors.
Raccoons must be captured before you seal off their entry points or they will pull and tear whatever they need to too get back in.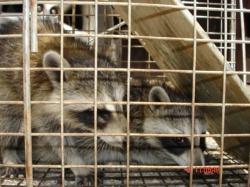 To have raccoons removed from your home, contact Animal Solutions.
Successful raccoon removal requires the skills of a properly trained professional to ensure that the animals don