If size matters, the beaver is the largest rodent living in North America. One or more mated pair will find a place to build a lodge, dam a stream and consume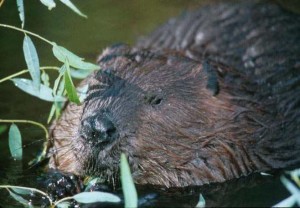 every tree in sight. Their home is like every other type of real estate; what matters most is location – location – location.
When the beavers build a home hundreds of miles away, you say they are being industrious. When they build one on your property that impacts you in a negative way, you say they are being the nuisance rodents that they are. Taking up residence in a stream near your home they can flood a corn field – or your basement.
When you as a farmer or a homeowner have to deal with such a problem it can drive you into a murderous rage.  Say, oh no – not beavers in my neighborhood! But you don't have to deal with it alone – the experts are here waiting for your phone call. Get the beavers out of your Mooresville neighborhood HOA Pond – NOW. We remove them!
When the nuisance on your property is a forty to sixty pound rodent with teeth that can chew tree bark, it's definitely a job for the experts. Animal lovers – note that we don't kill them. We simply live trap them and move them to a new home in a neighborhood where they can be an asset instead of a nuisance.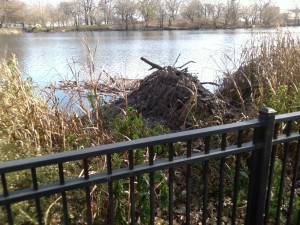 Yes, a beaver lodge and dam can create a new pond that is great for fishing, habitat for wood ducks and other waterfowl. Plus, at some time in the future, it can create a meadow full of wildflowers. In regards to beavers overpopulating an area, there is a government program that uses birth control for beavers.
No, that isn't a joke from Saturday Night Live, it's absolutely true. They are systematically taken to the vet and temporarily or permanently sterilized. Since they mate for life, that resolves the fear that their population will run rampant over the rivers and streams of North Carolina.
Their relocation to Wyoming, for one example, is a boon to that state. The wetlands there are greatly diminished by the over trapping and disease that reduced the number of beavers in that state. Species of birds and other wildlife are threatened by the loss of wetlands, their natural habitat. Bringing in the beavers is having an impact on improving the situation.
As the saying goes, one state's trash is another state's treasure. Both North Carolina and Wyoming benefit by the relocation of the dam-building beavers. Turn to the rodent-removal experts who can relocate them promptly. Call us today to give the U.S. Fish and Wildlife Service a speedy hand in the relocation process.